By: Lindsay Barret, MS CCC-SLP & Michelle Beck, MS OTR/L
With the school year approaching and back to school supplies on everyone's minds, our clinicians started thinking about their school years. Here at CommuniKids, we reflected on what interested us in pursuing careers in speech-language therapy and occupational therapy.
Continue reading to learn about why our speech-language pathologist, Lindsay, and occupational therapist, Michelle, chose their respective fields.
LINDSAY:
During orientation heading into my freshman year of college, I recall signing up for a class called "communication disorders" having little idea what it entailed. I remember finding the description of the course to be fascinating, so as an eager freshman, I signed up. After that introductory course, I was hooked. Years later, after completing undergraduate and graduate school and working in the field, I can say my initial feelings toward the field were accurate, it is fascinating.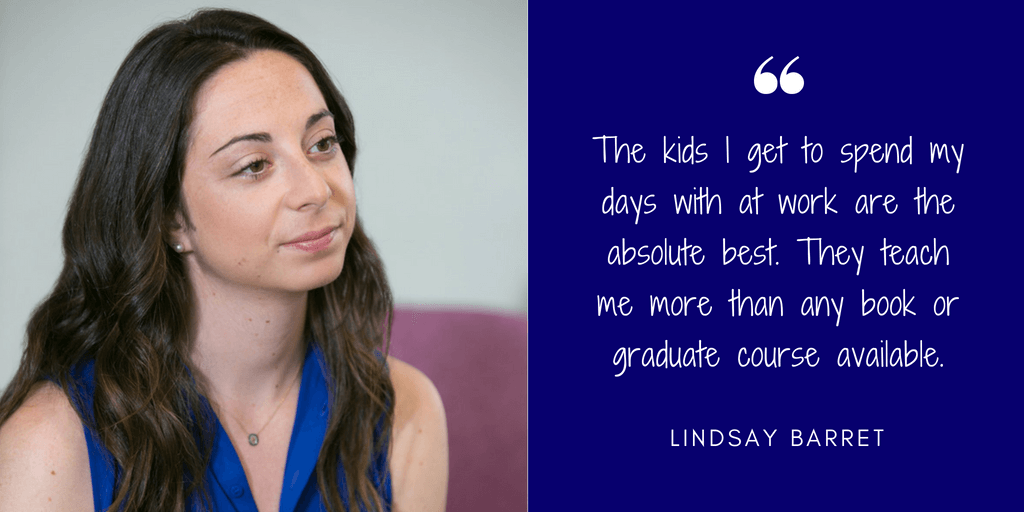 I was always interested in psychology as well as bits and pieces of education and medicine. Speech-language pathology draws on each of these fields in small ways.  I believe that is why I was quickly drawn to the description of that introductory course in college.
I was also drawn to the diversity that the field has to offer in terms of disorders I am trained to treat, the populations/age ranges I am qualified to work with, and the research methods I can employ. The variety of clinical settings and caseloads available to me as a speech-language pathologist brings something new and challenging while allowing me to make a positive impact.
As if that's not enough to offer, the kids I get to spend my days with at work are the absolute best. They teach me more than any book or graduate course available.
MICHELLE:
My mother was a special education teacher. I essentially grew up in her classroom. From a young age and until I graduated from high school she put me to work as a "neurotypical" peer, an extra set of hands for one her huge craft projects, or an assistant during field trips. She got me my first job at a summer camp for children with communication disorders.
In high school, I signed up for a work-study program and was placed as a teacher's aide in a special education kindergarten classroom. Long story short: In one way or another, I've always worked in the special needs world. Not surprisingly, I also knew exactly what I wanted to do: enrich the lives of children with learning differences. (And work on craft projects.)
I finished a two-year occupational therapy assistant program and worked as a C.O.T.A. (certified occupational therapy assistant) while finishing my bachelor's and master's degrees. I had the wonderful opportunity to attend a "bridge" program with other C.O.T.A.s that were continuing their educations. This was so meaningful to me because I got to pick the brains of not only my brilliant professors (who were also still practicing occupational therapists) but my fellow students as well. We were all actively working in the field with various populations. I was able to give and receive real-world advice and examples of how to approach challenging cases in real time. I believe this made me a more connected and realistic therapist, which has made it easier to work with families from all walks of life.
I've now been practicing in the occupational therapy field for 12 years. I love the everyday challenges and joy. I especially love seeing research become meaningful practice to positively impact my clients. I get to work with the best kids in the greatest city. What more could you ask for?