By: Michelle Beck, MOTR
Children are often better able to navigate their days and remain self-regulated when they have a routine they can rely on. Visual schedules are a great way to provide additional support for children who are most successful when they know what their routine will consist of. Children with self-regulation or attention difficulties, low frustration tolerance, or challenges with expressive/receptive language may be good candidates for these visual tools.
Creating a Visual Schedule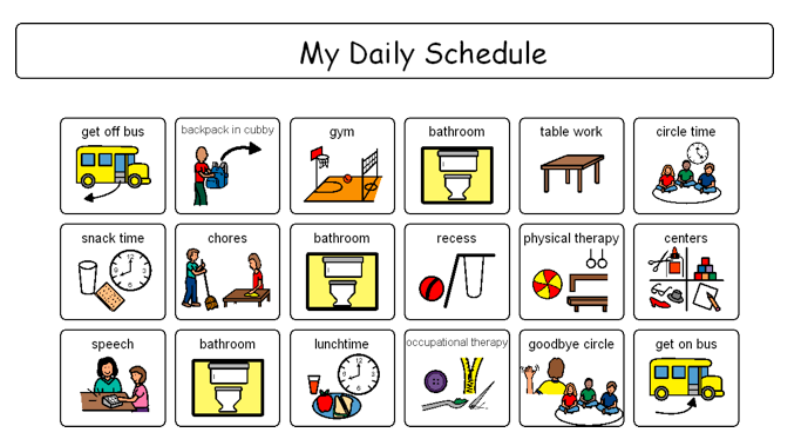 Visual schedules can be short and detailed (steps for washing hands, for example) or longer and more general (such as the school day schedule pictured above). Using a consistent cartoon-like drawn icon is more reliable than a photograph, as it cuts down on confusion and time spent photographing different places and activities. For example, the same bathroom icon for home and school can be used, or a simple desk icon for all fine motor activities.
The icons can be laminated and mounted to a portable strip of cardboard. The images can also be placed on a wall in the classroom or in the home. When each activity is completed, it can be removed and placed into a "finished" box (a decorated, empty tissue box or a Tupperware container, for example). Some families will establish a reward system for their child, depending on how motivated the child needs to be to complete activities. When all activities have been completed, the child will receive a sticker or a preferred snack, for example.
This motivation can help encourage the child and caretakers to consistently use the schedule and to update it with new activities as needed. If a temporary change needs to be made, such as a doctor's appointment, an icon can be added in the correct place on the schedule to help reduce anxiety and prepare the child for the interruption in their routine.
To set up a visual schedule, speak with your child's occupational therapist or speech-language pathologist for guidance. For more information about occupational or speech-language therapy or to set up a consultation with our experienced staff, contact us!